Our inspiring tutors help children aged 7-16 to
catch up, get ahead and dramatically increase their confidence

in maths and/or English!
Affordable 1-1 online tutoring

for maths and English from the convenience of your own home!
Friendly,

supportive,

skilled,

passionate,

fun

and

amazing...

these are just some of the ways in which our students and parents have described us!
From our humble beginnings, Tutoring Heroes has grown to over 40 tutors!
Tutoring Heroes tutors are all resident in the UK, and as only 4% of applicants are successful, you can be confident that your child is getting the best support available.
There are three key principles that distinguish Tutoring Heroes from other tutoring services:
We prioritise building your child's confidence.
Our maths & English tutors achieve this by creating a highly engaging, motivating and safe study environment.
This leads to your child being able to make real progress, which in turn fuels their confidence and allows for further progress.
We only recruit the best tutors (only 4% of applicants are successful).
Tutoring Heroes' tutors are all resident in the UK.
They are selected based on their outstanding ability to engage and motivate young people AND academic expertise.
By helping your child we are also able to help a child less fortunate.
Tutoring Heroes donates 10% of its profits to children's charities through the Global Fund for Children.
On average, UK businesses donate 1.9% of their profits to charity.
How does Tutoring Heroes work?

Sign up for a free taster lesson with one of our amazing tutors.
By completing some exercises with your child, our tutor will see how we can help dramatically increase their confidence, catch up and get ahead in maths and/or English!
You and your child can get to know your tutor and how to use our super easy online whiteboard (it's a bit like Skype).

We design a learning programme that is specific to your child's needs.
You pick a time for your child's weekly 1-hour lesson to take place in maths and/or English.

Your child is now ready to start their weekly 1-1 lessons with their tutor!
Your child will complete a range of exercises with the support of their tutor.
Children often find that the hour flies by!

Your tutor will reserve the last 5 minutes of each lesson to provide you with some feedback on what was achieved during the lesson.
Alternatively, you can choose to receive this feedback via email.
Either way, you can rest assured that we will keep you updated with your child's progress in maths and English.
The BEST online tutoring, at the BEST price!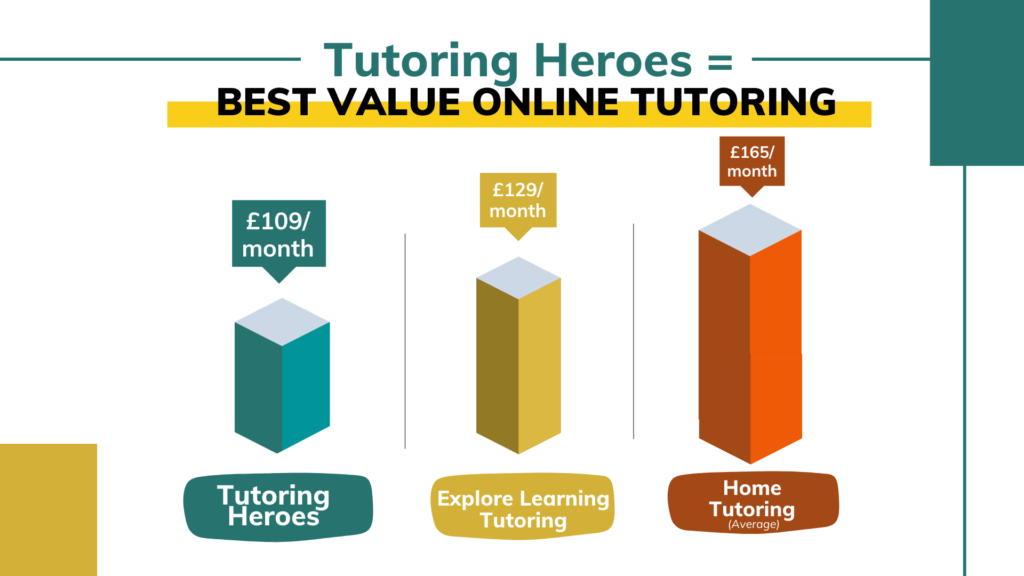 One hour of 1-1 online tutoring EVERY week for just £109/month!
This makes Tutoring Heroes far more AFFORDABLE and CONVENIENT than a tutor coming to your home.
MONEY BACK GUARANTEE if you don't see value for money after your first month!